Canadian Food (eatCanadian)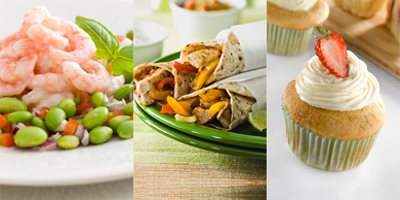 Why buy Canadian?
Canadian farmers and processors provide some of the best food in the world to Canadian dinner tables. Canada's agriculture and food products reflect our country's dedication to excellence, and our deep commitment to safety, quality, environmental responsibility and innovation.
Discover why Canadian consumers prefer to buy Canadian foods whenever possible.
Nutritious and wholesome

From the farm and the fishing boat to your table, our nutritious and wholesome foods are created from the highest quality inputs, carefully grown and raised in Canada's clean, natural environment.
Food as rich as its land

Our harvesting practices are among the most efficient in the world. Canada's vast and varied land, bounded by oceans on three sides and dotted with freshwater lakes, nurtures a diverse range of high-quality food ingredients.
Care, commitment and pride

Canadian laws and regulations provide world-class production standards to be met in every sub-sector of the industry with care and commitment. Many proud processors seek to exceed those standards by working with customers to satisfy their needs and tastes.
World's finest specialists

Our industry benefits from some of the world's finest specialists, determined to produce leading-edge products and top-quality food ingredients. Food scientists adapt our food products, packaging and technology to meet specific customer needs.
Food as diverse as its people

Canada is blessed with a rich heritage; from our native peoples to waves of immigrants brought by an adventurous spirit and a desire to make a better life – all have added their traditions and tastes to Canada's food offerings.
Consumers
Canada has a world-class food and agriculture sector dedicated to producing high-quality, safe products while respecting the environment. We are working with retailers and the food sector to make it easier for you to find Canadian food products when shopping. Please look through this site to learn more about the advantages of Canada's food sector, how to identify Canadian foods in stores, as well as some great recipes and food ideas.
Processors
Our consumer research and pilot in-store promotions have shown that Canadians have a strong preference to buy Canadian foods when doing their grocery shopping. In order for Canadians to act on this preference, it is critical that products are easily identifiable as Canadian. Learn more on how to identify your products as Canadian. It is also important that we continue to provide consumers with information about the benefits of consuming Canadian food products and the advantages of the Canadian agri-food sector so they continue to choose Canadian food.
Date modified: